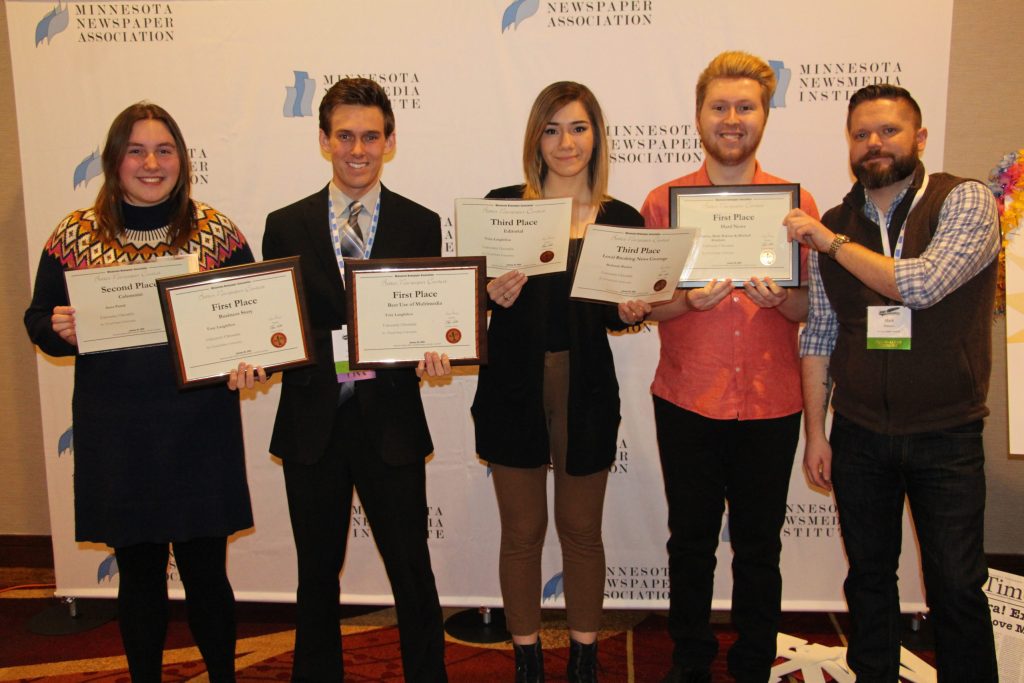 (From left to right) Reporter Anna Panek, Editor-In-Chief Tony Langfellow, Managing Editor Bethanie Barrios, former News Editor Mitch Abraham and Reporter Mark Wasson from the University Chronicle took home six awards from the MNA's Better Newspaper Contest on Jan. 30 for their work during the 2018-2019 school year. Photo credit: Tim Hennagir
The University Chronicle is the Digital and Print News Publication on the campus of St. Cloud State University. It was founded as a newspaper on Sept. 19th, 1924. Articles are published daily online at www.universitychron.com and in a printed monthly edition throughout the academic  year.
The publication is funded with student activity fees through the SCSU Student Government/Senate Finance Committee.
During the academic year, we have weekly editorial meetings on Mondays [4-4:30] and Thursdays [2-2:30]. Our office is in the basement of Stewart Hall, in the Student Media Center for Mass Communications, room 13.
If you'd like to know more about the Chronicle, or if you're interested in joining the staff, feel free to contact us.
Enter your email address to subscribe to the University Chronicle and receive notifications of new articles!
Join 2,651 other subscribers