Article Written by Maya Geving. Photos Credited to  Aiden Farrell.
Garvey Commons has been a longtime hub for dining and bringing students together at St. Cloud State University. That's why celebrating the big anniversaries matters. 
On Tuesday, September 12th, Garvey Commons dining hall commenced its 60th anniversary celebration. The event was called "Joy-Ful for Garvey". Students were met with a variety of new cuisine, exciting activities, and a DJ booth put on by KVSC to mark the celebration.
"This is an old campus, so it's important for us to recognize big anniversaries like this one",  says Marketing Director of Garvey Commons Lisa Lawson. 
Garvey Commons was first opened in the summer of 1963. It replaced the cafeteria that was once located in Stewart Hall. 
"It's a fun celebration that highlights the historic aspects of Garvey", Lawson continues. 
Students could see different historical elements scattered all throughout Garvey as a way of educating them on Garvey's history. These included poster boards with pictures of what Garvey has looked like over the years.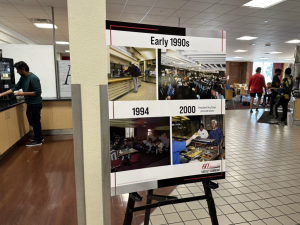 Garvey also used a special menu that differed from the everyday menu to bring students in. 
"Today we have different items at the grill, a wide variety of desserts, and more plant-based options", says Lawson. 
There was also a cookie-decorating bar, a DIY candy bag bar, special anniversary cookies, and a large coloring wall that students could fill in with markers. 
Lawson mentions how important Garvey is for creating a community at St. Cloud State University. 
"Garvey is so important to our community because it brings everyone together. We all need to eat. It's a place to meet and hang out with friends."
Students were also able to fill out notes with suggestions of what they wanted to see at Garvey. Turning in these notes gave students a chance to win prizes.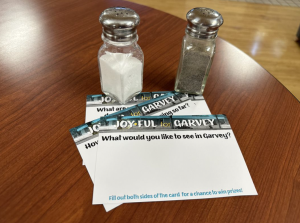 "My favorite part of working here at Garvey is that I get to promote many different aspects of dining. We get to break the norm of a typical dining experience and put on fun events. We really value student input and try to make dishes that students care about", says Lawson. 
She also mentions how they accommodate students with dietary needs. 
"We are incorporating more plant-based meals and we also have an allergen station. Students can view all the nutrition information of our meals on our Dine on Campus website and app."
St. Cloud State student David Adoyemi, a sophomore majoring in computer science, says he enjoys when Garvey puts on events like this one. 
"This event is the reason I came here today", he says.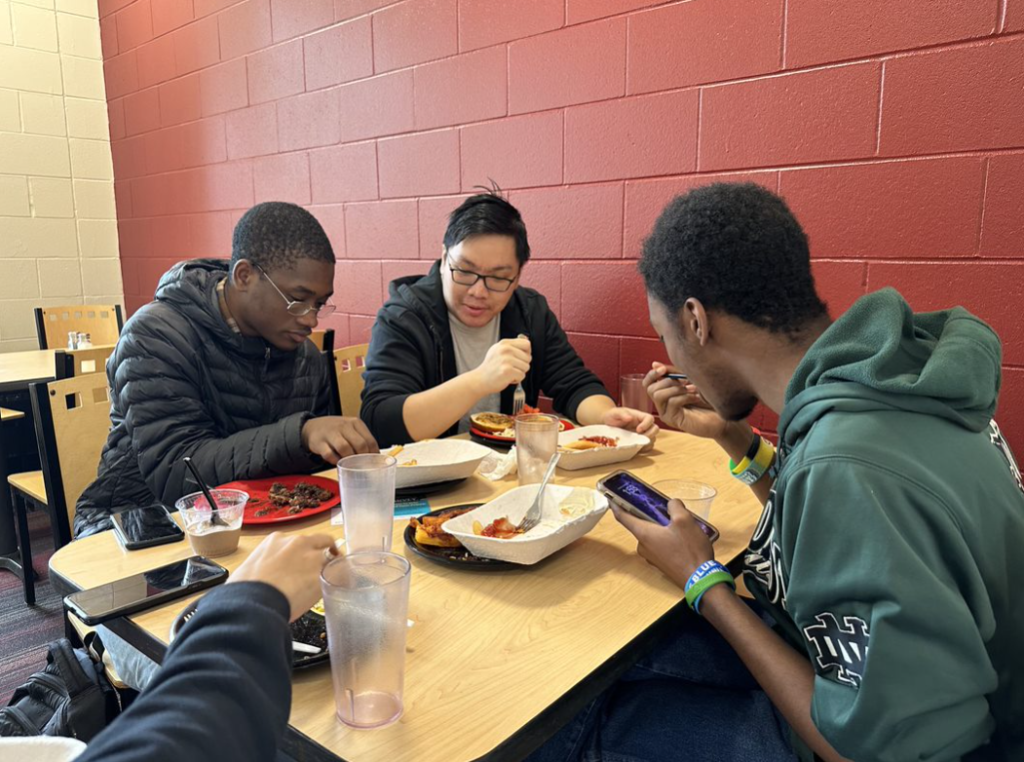 He also mentions how Garvey improves the community at SCSU. 
"It's a great place to meet new people. You can find people with common interests so it's a great social space. There's a lot of diversity here."
He mentions that his favorite food to get at Garvey is something from the stir-fry bar. 
"They also have really good desserts and chocolate cookies", he says. 
Garvey Commons is open from 7.30 a.m. to 8 p.m. on weekdays,10 a.m. to 2 p.m. for lunch on weekends, and 4.30 p.m. to 7 p.m. for dinner on weekends. Students can pay with their meal plans, husky bucks, blizzard bucks, cash, or credit cards.